Schnauzer Rescue Florida
( Florida chapter of Schnauzer Rescue Cincinnati)
---
Our Featured Pet... "OTTO a/k/a TOTO"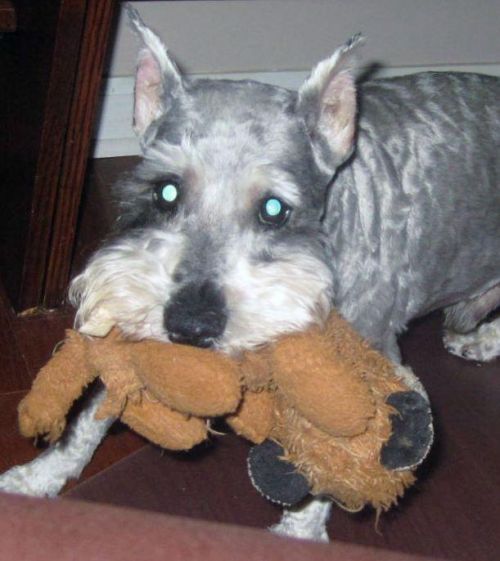 Hi, My name is Otto formerly known as Toto. I was surrendered by my owner. She loved us very much but when Daddy died and with her job she just couldn't take care of us anymore. My sister Lola was adopted by my foster moms friend. I'm kind of glad she is in a new home. She always stole my toy and got me very upset. Now i don't have to worry about someone stealing my baby bear anymore and Lola is happy in her new home. I am a senior but still on the go all day and in the evening I love to lay by my foster mom while we watch TV. I sleep on her feet so I know when she gets up and doesn't forget me in bed. I don't want to miss anything. I did just get a dental and a health check up. I do have one small lump and one larger one. They want to just leave them alone since they are not growing any bigger and bother me. If you are wanting a sweet boy please come and adopt me. My adoption fee is 225
If you are interested in this fur kid - please go to our website at: http://www.schnauzerrescuecincinnati.org/adoption_form.html There you will find an adoption application which you can fill out online and submit.
Otto a/k/a Toto Is fostered by Iris in Enterprise AL
Submit an application to adopt HERE.
---
Total Number of Dogs Rescued and Placed Since November 2004
1,248
---
---
---
You can now help care for our "Special Needs Dogs" by using Pay Pal !
---
---
You can help support our rescues with your purchases!

Click on the above logo to start shopping!

---
---
Who We Are
We are a small rescue group originally based near Cincinnati, in Sharonville Ohio. SRC's service area covers all of Ohio, Kentucky, West Virginia and most of Indiana and parts of Delaware, Pennsylvania, Michigan and Florida. We are dedicated to the rescue of schnauzers in danger of being euthanized, living in unhealthy situations, as well as owner surrenders. Schnauzer Rescue Cincinnati is growing rapidly, and unfortunately, so are the number of dogs that need help. We are in desperate need of volunteers to provide foster homes, and help with the transportation of rescues. If you are not in a position to volunteer, you can still help, we will always accept a monetary donation, dog food, gift cards (telephone and pet supplies), leashes, collars, and anything dog related. Please help us help the dogs.
---
A Special Tribute to Little Jaeger HERE.
---
Meet Our Buisness Supporters HERE.
---
Meet Our Private Supporters HERE.
---
Schnauzer Rescue Cincinnati needs foster homes in Ohio, N. Kentucky, West Virginia and parts of Indiana, Michigan and Florida. If you are able to help out these little fur babies for even a short time, we would greatly appreciate it. We also need help occasionally in transporting. Please contact pmiller0000@aim.com if you have any questions or would like to help out.
You can also use our "Volunteer" application form below.
---
You can help!
Submit an application to volunteer HERE.
Submit an application to Foster HERE.
---
Meet our volunteers HERE.
---
Adopting a friend
The adoption process will include a vet reference as well as a home visit. Our adoption fee is determined on an individual basis. The fees do not always cover the costs of the upkeep of our rescues. In addition to transportation expenses to our rescues' foster homes, we completely vet them, which includes, an exam by our vet, blood work done, all vaccinations, heart worm tested, fecal test, and a dental is done if needed.
Submit an application to adopt HERE.
---

To Jump to our newest Ohio page on the Web click HERE.
---
To Jump to our Ohio Petfinder page click HERE.
Click here for a list of pets at this shelter
---
Schnauzer Rescue Florida
Winter Haven, FL 33884
Email: pmiller0000@aim.com



---

[Home] [Information] [Shelters] [Search]