Schnauzer Rescue Florida
( Florida chapter of Schnauzer Rescue Cincinnati)
---
Our Featured Pet... "PRINCESS"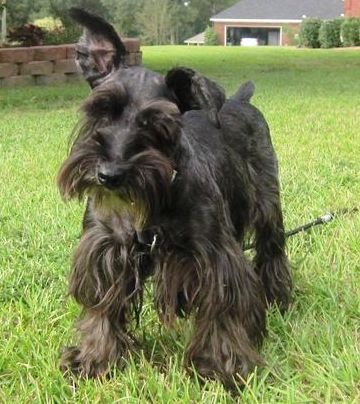 Princess came from the Dothan Al. animal shelter. We really don't know how old she is. We think she was probably a breeder dog. Her ear has a numbered tattoo in it, her teeth were horrible since all the nutrition goes to their puppies and her teats are very big due to having lots of litters.
Dothan had her heart worm checked and she tested positive so they asked us to take her. We first got some weight on her and then had her teeth cleaned and pulled. She will need another dental next year so they can pull a couple more teeth. They are just not loose enough to pull. After she recovered from the dental the vet gave her the heart worm treatment.
After 4 months we retested her and she is now heart worm free. She is a very sweet girl who has no issues with anybody. She is crate trained and has started walking on a leash. She likes to be where you are. She is not a barker unless she wants out of her crate in the morning to get her breakfast.
I do still have issues with her pottying in the house even though she knows to go outside and so I don't know if its a marking issue. Yes, girls do mark when living with a pack so she might not if she was the only girl.
Please open up your home and finally give her a dogs life she so deserves. She is up to date and is spayed. She is on flea and heart worm preventative. Her adoption fee is $250 which would help us out with the vet fee.
Princess Is fostered by Iris in Enterprise AL
Submit an application to adopt HERE.
Submit an application to adopt HERE.
---
Total Number of Dogs Rescued and Placed Since November 2004
1,248
---
---
---
---
You can now help care for our "Special Needs Dogs" by using Pay Pal !
---
---
You can help support our rescues with your purchases!

Click on the above logo to start shopping!

---
---
Who We Are
We are a small rescue group originally based near Cincinnati, in Sharonville Ohio. SRC's service area covers all of Ohio, Kentucky, West Virginia and most of Indiana and parts of Delaware, Pennsylvania, Michigan and Florida. We are dedicated to the rescue of schnauzers in danger of being euthanized, living in unhealthy situations, as well as owner surrenders. Schnauzer Rescue Cincinnati is growing rapidly, and unfortunately, so are the number of dogs that need help. We are in desperate need of volunteers to provide foster homes, and help with the transportation of rescues. If you are not in a position to volunteer, you can still help, we will always accept a monetary donation, dog food, gift cards (telephone and pet supplies), leashes, collars, and anything dog related. Please help us help the dogs.
---
A Special Tribute to Little Jaeger HERE.
---
Meet Our Buisness Supporters HERE.
---
Meet Our Private Supporters HERE.
---
Schnauzer Rescue Cincinnati needs foster homes in Ohio, N. Kentucky, West Virginia and parts of Indiana, Michigan and Florida. If you are able to help out these little fur babies for even a short time, we would greatly appreciate it. We also need help occasionally in transporting. Please contact pmiller0000@aim.com if you have any questions or would like to help out.
You can also use our "Volunteer" application form below.
---
You can help!
Submit an application to volunteer HERE.
Submit an application to Foster HERE.
---
Meet our volunteers HERE.
---
Adopting a friend
The adoption process will include a vet reference as well as a home visit. Our adoption fee is determined on an individual basis. The fees do not always cover the costs of the upkeep of our rescues. In addition to transportation expenses to our rescues' foster homes, we completely vet them, which includes, an exam by our vet, blood work done, all vaccinations, heart worm tested, fecal test, and a dental is done if needed.
Submit an application to adopt HERE.
---

To Jump to our newest Ohio page on the Web click HERE.
---
To Jump to our Ohio Petfinder page click HERE.
Click here for a list of pets at this shelter
---
Schnauzer Rescue Florida
Winter Haven, FL 33884
Email: pmiller0000@aim.com



---

[Home] [Information] [Shelters] [Search]