Friends of Collies and Shelties Inc
An all-volunteer non-profit 501(c)(3) organization
---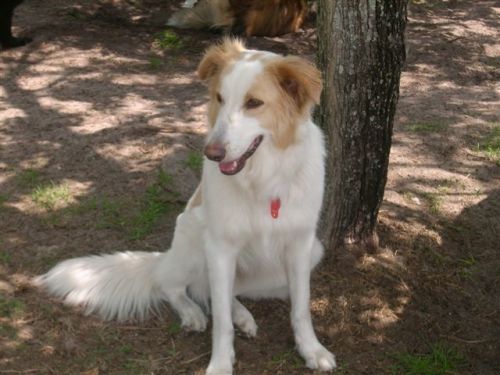 Our Featured Pet...DIXIE BELLE
My name is DIXIE BELLE. I am a sweet girl, love to play, I must have a fenced yard. I am a sable headed white collie mix. I love to talk and sleep in bed with my people. Love to chase butterfly shadows, love playing with my foster brothers and sisters and boy do I love to eat, I am full of energy so that is why I need a fenced yard cause I will just run, run, run and have fun. I love being with my people laying at your feet, got to be where my people are..... I do come when called, and sit. Would love a furever home of my own.
For more information about DIXIE BELLE please complete an APPLICATION
DIXIE BELLE is being fostered near Orlando.
Who We Are
Friends of Collies and Shelties is not currently taking in any dogs, but will attempt to assist other sheltie and collie rescue groups in any way possible.

Is a Collie or Sheltie Right for Your Family?
Please take the time to learn more about the temperament, health problems, and grooming and exercise needs of different breeds as you decide on adding a dog to your family.
For information about collies: Rough and Smooth Collies: Breed Information
And for shelties: Shelties --What's Good about 'Em? What's Bad abouth 'Em?


Check our ADOPTABLE PET LIST for collies and shelties available for adoption.

If you see a collie you are interested in, please fill out an APPLICATION

If you do not see any collies or shelties here you are interested in here, you can also check with
Tallahassee Collie Rescue
ColliesFlorida Rescue
MidFlorida Sheltie Rescue
Jacksonville Sheltie Rescue
Saving just one dog won't change the world.
But it surely will change the world for that one dog.


---
Friends of Collies and Shelties Inc
Jacksonville, FL
Contact us

Click here for a list of pets at this shelter

---

[Home] [Information] [Shelters] [Search]