THE SPCA OF GAINESVILLE
---
OUR FEATURED PET...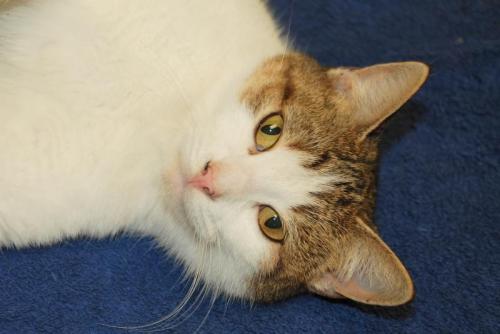 LALA IS OUR FEATURED ONLINE PET!!! She is an 1 year old, female spayed, super affectionate kitty. Lala loves being held and will even reach up to be picked up. Please read her profile and contact us at spcanorthflorida@gmail.com about adopting her.
OUR FEATURED PETSMART PETS...
MAIZEYIS OUR FEATURED PETSMART PET! Maizey is at PetsMart. She is staying in one of our PetsMart cages until she is adopted. Please visit her at PetsMart or please email spcanorthflorida@gmail.com for an application or speak to Robin at PetsMart during adoption hours Sat and Sun from 11am-3pm in Gainesville on Archer Road.
NEWS - SPECIAL NEEDS ANIMALS

AVA is our SPECIAL NEEDS featured pet. Ava has manx syndrome and needs special medications. Please check out her bio and contact us if you can help her. Please stop by PetsMart on Archer Road in Gainesville and speak to one of our coordinators on Sat or Sun from 11am-3pm or e-mail spcanorthflorida@gmail.com for more information about adopting one of our very special kittens and cats. If you are interested in helping with our special needs animals, please contact us. Many of the cats and kittens need time, love, understanding, as well as daily medications and treatments while they heal. Adopting a special needs pet is a true rescue.
WHO WE ARE
We are a small completely volunteer (501c3) non-profit organization run exclusively on private donations and no government assistance. Our primary goal is to find lifelong, forever homes for special needs unwanted cats and dogs. We also emphasize owner education and reducing the number of unwanted pets through spaying and neutering.
ADOPTING A FRIEND
E-mail is usually the best way to contact us or you can speak with our adoption coordinator on the weekend at PetsMart on Archer Road in Gainesville, Saturdays and Sundays from 11am-3pm. We will require you to fill out an application form and sign an adoption agreement if and when an adoption is agreed upon. Adoption fees are $100 per pet. We are very selective when choosing homes for our needy animals. Many of our rescues have been through a lot of stress and sometimes injury in their short lives and our primary goal is to match the right animal with the right home. You can also contact Robin at 352-473-8276 or 352-339-3352.

SWEET PEAAnd don't forget our lovable dog who needs a home. She is waiting to meet you and show you how eager she is to please what a wonderful new companion she can be!
FOSTER PROGRAM - HOW YOU CAN HELP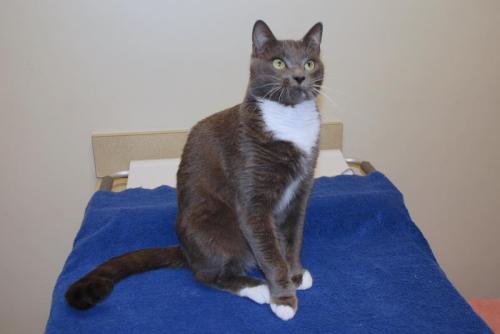 ANGELO Angelo is a terrific 1 yr old friendly guy who is now staying in a cage until he can find a temporary or permanent home. Please contact us at spcanorthflorida@gmail.com. All supplies are provided while you are fostering.
COME VISIT US!
We do not have a shelter or location for visiting most of the pets. Most of our animals are in individual foster homes where they receive the individual care and attention they deserve and need. Several of the pets listed are at PetSmart waiting to be adopted. Please contact us via e-mail if you are interested in adopting or fostering and we will set up a time to meet. Some of the animals listed on this site are now available for adoption at PetSmart in Gaineville on Archer Road all week long. Adoption hours are 11am-3pm on Sat. and Sun. each weekend and the adoption fee is $100 per cat or dog to help cover some of the veterinary care, testing, vaccinations, surgeries, food, litter, and medical needs. All of the adoption fees and donations go directly to help the animals in need
DONATIONS
WAYS YOU CAN HELP:

If you are interested in making a monitary donation that will go directly towards animal health care, please contact Lake Area Animal Hospital at 352-475-2326. They are able to take credit card donations over the phone and place the money directly onto the rescue account to help pay for medical expenses.

Cash or product donations can also be made in the donation jar or box at PetsMart on Archer Road in Gainesville during adoption hours on the weekend.

You may also mail check donations made out to The SPCA of North Florida to P.O. Box 358491 Gainesville, FL 32635-8491.

And of course, donation of your time is always appreciated, either by fostering a needy animal in your home or by donating your time on the weekends to help at our adoption site.
OUR LOYAL SPONSORS
Thank you to the many wonderful people who make donations throughout the year to help our needy animals. We would like to extend a special thank you and recognition to:

To the STAFF AT LAKE AREA ANIMAL HOSPITAL who take such good care of our needy animals and who organize and volunteer their time and support in our foster program and for our fund raiser activities such as yard sales.

To our many wonderful VOLUNTEERS AND FOSTER PARENTS - we couldn't do it without you.

CURRENT EVENTS AND FUNDRAISING
MEET AND GREET OUR ADOPTABLES!!!!!

EVERY WEEKEND: SAT AND SUN FROM 11AM-3PM

PETSMART ON ARCHER ROAD, BUTLER PLAZA, GAINESVILLE, FL

If you would like to volunteer as a foster parent or if you are interested in adopting, please see our adoption coordinator, Robin, during our meet and greet adoption hours.


---
SPCA OF NORTH FLORIDA

P.O. Box 358491
Gainesville, FL 32635-8491


Email: spcanorthflorida@gmail.com
Click here for a list of pets at this shelter

---

[Home] [Information] [Shelters] [Search]