South Animal Care and Adoption Center
Our Pet Lists
Dogs | Cats | Rabbits | Ferrets | Birds | Reptiles | Small and Furry
---
Pets featured here are not at the shelter, they are in homes where they are being temporarily cared for in a family environment.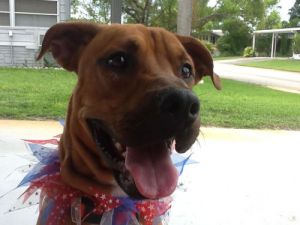 Phil
Click on the photo or name to read more about this dog.
---
On Feb. 3, 2009 the Brevard County Commissioners agreed to explore a NO KILL (Save 90%) agenda for Brevard's county shelters (Eau Gallie and Titusville/Flake Rd.). To be successful we need volunteers...people to foster, people to take animals to offsite adoption events. This is a LONG TERM plan. Please help us be successful!
Who We Are
The South Animal Care and Adoption Center is located in Melbourne, FL. We are one of the centers operated by Brevard County Animal Services and Enforcement. We are committed to building lifelong bonds between people and animals through education, community outreach programs and the prevention of cruelty. We dedicate ourselves to providing prompt, professional services to the citizens and animals of our community. One of our primary goals is to protect the public from stray or dangerous animals. We are devoted to the prevention of cruelty to animals by operating an animal care center for homeless, abandoned and unwanted animals; by operating an adoption center for healthy animals; by investigating cruelty and abuse cases; and by educating the public with information on animal ownership responsibilities. Brevard County Animal Services envisions a time when our community celebrates the human-animal bond; embraces the mutual benefits therein; and treats all living beings with care, compassion and respect.
Adopting a pet friend
Hours Open to Public:
Thursday thru Tuesday: Noon to 6:00 p.m.
We are closed Wednesday and Holidays
Adoptions end 30 minutes prior to closing.
Adoption Fees (includes spay/neuter, microchip, rabies vaccine (if of age) and registration tag):
Dog -- $80.00
Cats -- $70.00
Additional Discount prices available during adoption events.

The adoption fee helps to off-set a portion of the costs we incur for spaying and neutering, vet examination, rabies vaccination, first shots, deworming, microchip and county license tag. Dogs six months and over are confirmed to be heartworm negative. Cats four months and over are negative for feline leukemia and feline aids. Kittens under four months are tested for feline leukemia, only.
Brevard County Yearly Registration/License Tags
$10.00 - If your pet is a puppy/kitten *which means under a year* or is already fixed.
$16.00 - If your dog or cat is an intact adult.
Volunteers Needed
The animals always appreciate more volunteers to assist with their care and socialization. There are a wide variety of volunteer opportunities available for pet lovers. For more information please check out the Brevard County Animal Services Volunteer Information page.
Pajama Pups is one of our newest canine enrichment programs designed to improve the overall well being of dogs housed in Brevard County Animal Shelters. Pajama Pup Partners are individuals that once approved can retrieve a dog from one of our shelters in the evening for a "doggie sleepover". To read more click on the picture to the left.

Becoming a Pajama Pup Partner is easy. All partners must first be approved by filling out a foster application. This can be done at one of our shelter locations. Download app for South shelter here.
Lost or Found a pet?
Make a report at the shelter either in person or by phone.
Put up flyers and communicate to mailpersons, local vet offices, neighbors, children, etc.
Check BrevardLostPets.com to see if the pet was posted there. Read the tips for reuniting lost and found pets. Post the lost or found pet on the site.
If lost, check the shelters in person every other day.
Come Visit Us!
South Animal Care and Adoption Center
We are located at:
5100 West Eau Gallie Boulevard
Melbourne, FL 32934
We are about 1/2 mile west of I-95 on Eau Gallie Blvd.
Phone: 321-264-5119
Map to our shelter
Click here for a list of
Dogs | Cats | Rabbits | Ferrets | Birds | Reptiles | Small and Furry