Castaway Cats
---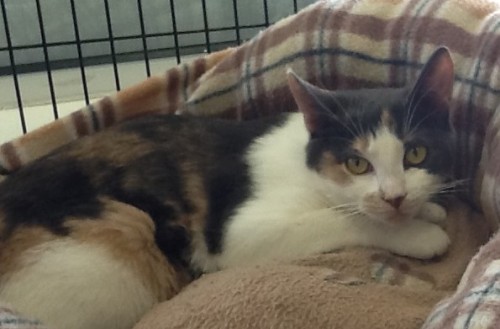 Our Featured Pet...


Sandra D. is so very cute and sweet ! She and her siblings were born under a shed in a small, bad neighborhood and a concerned lady asked us to help before any harm was done to them. We were able to get them in and get them all fixed up (spayed,neutered, vaccinated for feline leukemia and FIV and they are up to date on their FVRCP and rabies shots) 3 have already been adopted and the new owners are thrilled with how wonderful they are! Sandra D. will be a little shy at first and would probably be best as an only child in a quiet place or she may be ok around another mellow cat. Right now she is living under our bathroom sink because she is overwhelmed by all the other cats at our rescue! That is why we are posting her as our featured pet because this is no kind of life for such a sweet girl with lots of love to have to live!
News
Please check out our new website at www.castawaycatsde.com More wonderful news! A wonderful couple agreed to foster Julian for the next few months until he can be retested for feline luekemia. We are hoping and praying he retests negative like his mom (Stephie) and his sister (Jada) because he is so very sweet and deserves to live a long, happy, healthy life! Miracles do happen! We are so please to announced that Pablo, one of our special needs cats, who has feline aids (FIV), has been adopted and is loving his new place! A lot of people are afraid to adopt a FIV cat, thinking they might get aids or that the cat will be sickly or not live long but that is NOT the case. FIV cats can live as llong as any other cat and can not give a human or dog aids. They can only give another cat aids if they are agressive and bites them and all of our FIV are the sweetest cats ever and we wish more people when take a chance with them-they won't be disappointed! We are pleased to announce that as of November 2010, we are now a 501(c)3 charity organization which means that all donations are tax-deductible!
Who We Are

Castaway Cats rescues stray/abandon cats and kittens. These cats/kittens are brought in, spayed/neutered, tested for Feline Leukemia and Aids and vaccinated with the FVCRP and rabies shots, de-wormed and de-fleaed. Some are micro-chipped.

Each one of these cats has a heart-breaking story of how they were once cherished owned pets who were "castaway" like garbage! Some are offspring's of feral(wild) cats who have been given a chance to live in a warm, loving home instead of on the streets desperate to survive.

Not all, but most of these cats/kittens need extra TLC since they were castaway or never experienced a loving hand. They need patient, caring owners to show them that not all people are bad and they can now live their lives out in a stable, permanent home.

Are you one of these special people who is willing to adopt one of these poor souls - YOU WON'T BE DISAPPOINTED! They will reward you with much appreciation and unconditional love.

Adopting a friend

When adopting a cat or kitten from Castway Cats, you will be asked a series of questions including your name, address, phone number and a vet that you use or have used in the past.

Someone who has never owned a cat before may not be the best candidate for a "castaway" cat since they require some knowledge about cats traits and how they may re-act to different situations.

You will be required to sign an adoption agreement stating that you will provide proper care for the cat/kitten for its entire life which can be up to 15-20 years.! Follow-up phone calls and/or home visits may also be required. There is a $85.00 adoption fee which includes 2 FVRCP shots, 2 wormings, Revolution (for fleas, earmites and worms), feline leukemia and FIV test and the cost for spaying or neutering. $100 if micro-chipped.

Come Visit Us!

If you are interesting in any of these cats or would like further information about them or Castaway Cats, please e-mail me at castawaycatsde@aol.com or call me at (302)325-2081 or visit our website at www.castawaycatsde.com . We will be happy to answer any questions you may have and/or provide directions to come and see the cats personally.

---
Castaway Cats


Bear, DE 19701
Phone: 302-325-2081

Email: castawaycatsde@aol.com
Click here for a list of pets at this shelter

---

[Home] [Information] [Shelters] [Search]