Danbury Animal Welfare Society Inc.
---
Who We Are
We are a non-profit, no-kill animal welfare group working in the greater Danbury, CT area. We have a large selection of cats, dogs, kittens and sometimes puppies at our shelter in Bethel, Connecticut.
Adopting a friend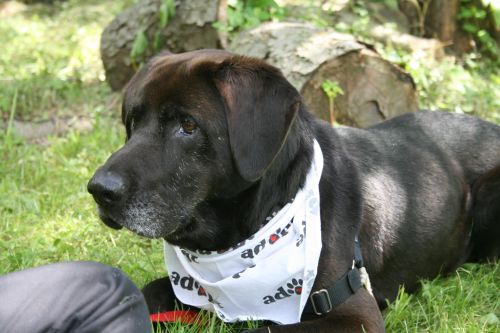 Sarge!

ATTEN-HUT!! What is your major malfunction?? That's easy, you haven't adopted me yet!!! Hi everyone! My name is Sarge and I'm a 6 year-old Labrador Retriever mix. And don't worry, my personality is nothing like a real drill sergeant! I'm a happy-go-lucky and playful guy who can't wait to find a home of my own! I've had some ear issues since I've been at DAWS but the amazing clinic staff has taken such good care of me and I'm finally ready to be adopted! I love being around people and would do well in a home where someone is home a lot! I love being outside and rolling in the snow and I like playing fetch too! I'm an awesome guy who's had a rough life and I'm ready for my new leash on life!



Wesley!

Wesley has been with us for many years and we are not quite sure why. He is on the quiet side, but is also a very sweet boy who will warm up to people he knows. He enjoys sitting in a sunny windowsill and watching the birds. He has also watched all of his friends get homes while patiently waiting for his turn to come. Wesley gets along very well with other cats.

Please visit our website http://www.daws.org for the most current and comprehensive listings, and more information about our adoption process! Please note that we happily adopt to Connecticut residents, and to nearby counties in New York or surrounding states. If you are interested in adopting dogs or puppies, please email us at dogs@daws.org. If you are interested in adopting cats or kittens, please email us at cats@daws.org.
Come Visit Us!
ADOPTION HOURS
CATS:
Year-round:
Monday - Friday 6-8 p.m.
Saturday/Sunday 2-4 p.m.
DOGS:
Year-round:
Monday - Friday 6-8 p.m.
Saturday/Sunday 2-4 p.m.

ADOPTION FEES CATS:
Adult Cats (6 months+): $100
Kittens (under 6 months): $125
All adoption fees include: spay/neuter, age appropriate vaccinations, FeLV/FIV testing, and veterinary exam.

DOGS:$225
Puppies:$250 (under 16 weeks of age)
All canine adoption fees include: spay/neuter, rabies/distemper/bordatella/canine influenza vaccines, heartworm/lyme/erchlichia bloodtests,flea & tick treatment, heartworm preventative and microchipping.

---
Danbury Animal Welfare Society Inc.
147 Grassy Plain Street
Danbury CT 06813
Website: www.daws.org
Email: daws@daws.org

Click here for a list of pets at this shelter

---

[Home] [Information] [Shelters] [Search]