Keep Us Purring Rescue

We work as a family to help the homeless and feral kitties in need !!News: **March 2014** We will help TNR (spay/neuter ferals=wild cats) If you are in Colchester, CT and need help with a stray or feral kitty. We will rehome feral kitties up to 14wks old~ PLEASE EMAIL US ! **

---
Featured Kittens!!
**Faith Lovey Luv Luv and Chaz The Chazinator**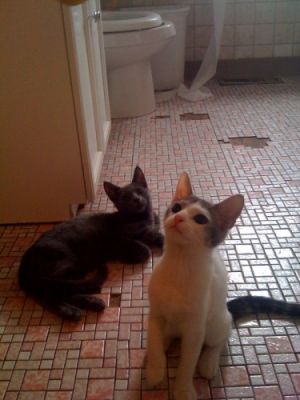 Click here to see all of our Kitties currently Looking For Homes
---
3/6/11 WE Placed 5 PUG/YORKIE MIX PUPS.. CLICK TO VIEW THEM
Adorable, very socialized, loving, puppies looking for new forever homes
---

A little about our rescue
As of March 2014 Our rescue and volunteers have helped people with low income alter 230+ cats/kittens as well as helped eight families get their dogs altered. We have transported 30+ babies to rescues, and helped trap 121 feral kitties. With out our adoption fees, volunteers driving to appointments and monetary donations to defer rescue costs, we would not have been able to help these animals. We have also placed many pets since we began rescue! To date we have rescued 97 dogs/puppies and 421 cats/kittens. We hope to continue to save many more lives!
(UPDATED March 2014)
---
Who We Are

Keep Us Purring is a home based rescue who relys on adoption fees, tag sales, can/bottle drives, food drives, as well as any type of donations from fellow animal lovers to help ANY pet , ANY where, in need. Our Mission and the purpose for this rescue was to get more education and cat care information out to people. We want to help people understand the benefits of Spay/Neuter and proper care and bonding with thier adopted furkids. We also try very hard to help pay for spay/neuter when we have the funding available.

Adopting Your Forever Friend

The donation towards any animal will be to defer costs. All animals are wormed, vet checked, UTD on shots, altered, and will be on Revolution.
I require a Pre-adoption form, home visit, references and you will need to be able to spend some time at my home visiting the animal you are interested in.
Thanks for Visiting our 'Online Rescue, Here at Petfinder !!