Sutter Buttes
Canine Rescue
Click Here To See Our Happy Tails!
---
Our Featured Pet...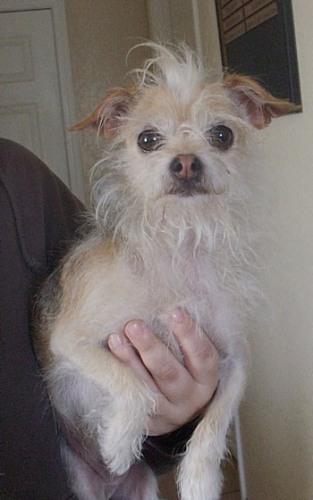 Junior is about 4 years old and he is a Chinese Crested/Chihuahua, he weighs about 6 lbs,
he is neutered and is current on all shots and he has been Heart worm tested neg.
He is a sweet little guy.
IF YOU ARE INTERESTED IN ADOPTING THIS PET, PLEASE CONTACT US AT 530-695-3814 FOR MORE INFORMATION.
COME VISIT OUR NEW WEBSITE!
http://www.sbk9rescue.com

!
BRAND NEW SHELTER, NOW OPEN!!
This is a very exciting year! We have built a brand new animal Shelter! The shelter has roomy indoor/outdoor kennels. There is a very nice reception area, grooming area and exercise area. This facility will provide a comfortable and loving temporary home for the animals while they wait for their permanent homes. We need your support more than ever!. If you are interested in becoming a shelter sponsor, please contact us. We need your help! We are in need of volunteers to help with the new shelter. This new facility allows us to continue assisting our communities with the placement of unwanted and abandoned animals into permanent loving homes. We provide medical care, food, warm safe housing, vaccinations, neutering and spaying,heart-worm testing, needed veterinary care as well as grooming to all of our furry friends.
BECOME A BUSINESS SPONSOR!
We have many opportunities for Business Sponsorships. As a local business, this is an excellent opportunity to strengthen your ties in the community and help one of your important local charities. Your tax donation is key to the success of our shelter, which helps place animals in good homes and educate the public on the importance of responsible pet ownership. Our PAW SPONSORSHIP PROGRAM includes three levels of support, so there is a perfect fit for every business of individual. For more information contact Bill Bonser at 671-6054
We have opened a Thrift Shop!
We need Your Help! Donations of New and gently used items in very good condition and working order are needed. All proceeds from the Thrift Shop directly benefit Sutter Buttes Canine Rescue allowing us to provide veterinary care, vaccinations, spaying and neutering, food, grooming and other necessities to the animals while they await their permanent homes. The Thrift Shop assists with much needed financial support for the rescue so that we can continue our mission of placing unwanted and abandoned animals into loving, permanent homes. So check your attic, your garage, your bedrooms and all around your house for any items that you can donate. Your Spring Cleaning could make a difference in the life of a homeless pet. Remember, we can only accept items that are in very good condition. Those things you have laying around the house could help a homeless animal to find a second chance at life. Don't waste another minute, get started and bring your donations to 855 Gray Avenue, Yuba City Tuesday - Saturday from 10:30 -4:30. We are located across from the street from Gray Avenue School. We appreciate your support and your donations. We know this will be a Wonderful Success with your help. If you have any questions regarding the Thrift Shop, please contact Theresa at 530-755-2025.(Sorry, we cannot accept: Large appliances, cribs, car-seats, soiled clothing, mattresses or single components of computers) Please call the number listed above for more information on items that we can accept. 
Adoption Location
We are now hosting our adoptathons at Petco, Petsmart and different locations within the community. The adoptions are held on the first and third Saturday of every month, from 11am - 2pm. Check the local Appeal Democrat for dates of adoptions. Also, check the event list on Petfinder.com for upcoming adoptathons.
Become A Volunteer
If you are interested in volunteering, please send us an email with your name, address and experience with animals. (Volunteers must be 18 years of age). Please include specific areas you are interested in helping with. Volunteers make it happen and without them, our furry friends would not be able to find a second chance at life. We have many opportunities available for volunteers. We always need volunteers for our Thrift Shop.
Wish List
We are in need of Puppy food. If you are able to donate Iams Puppy Food, please contact us at 530-695-3814 or send an email to
sbk9rescue@earthlink.net
. We also need: Office Supply gift Certificate,Computer,Medical Fund For Veterinarian Care, Dog Toys,Advantage or Frontline,Neuter and Spay Donations.Newspaper Ad Sponsor.Kennel Sponsors We would appreciate any donations
.
Who We Are
We are a 501 (3)(C) non-profit organization dedicated to placing homeless, unwanted animals into loving homes. We rescue animals from local shelters as well as animals that have been abandoned or surrendered.
Over the years, we have placed over 4000 dogs and puppies and cats into loving homes. We spay, neuter, and vaccinate all animals prior to adoption. Our kennels will accommodate 18-20 dogs. Our adoption rate is 20-30 animals per month. Sutter Buttes Canine Rescue finds homes for all breeds, large and small.
We attempt to place the animal in the most appropriate home so that the owner and the pet will meet each others needs. Our first priority is to the animal, to be sure we are providing the best possible home for our friends. Our adoptions are very successful and and there is an incredible reward with each loving adoption. We have many dedicated volunteers that help to hold and socialize the animals at adoption sites, as well as helping with fundraisers.
Adopting a friend
Our animals are spayed ,neutered, vaccinated and are sent home with a certificate, good for a free veterinarian exam. You will also receive an up-dated health record to take to your Veterinarian. All dogs go out under contract and you must be 18 yrs old and have a fenced in yard. All potential adopters are required to fill out an adoption application and after review and approval, animals go out under a contract. There is an adoption fee for the animals. The adoption fee is used for Medical care, shelter, Food, vaccinations, spaying/neutering, heart-worm testing as well as grooming and flea control needs. Our goal is to place the animals into permanent homes.
Come Visit Us!
COME VISIT OUR NEW WEBSITE!
http://www.sbk9rescue.com
We are located off Hwy99 between Live Oak and Gridley California. From Yuba City take Hwy 99 north about 12 miles. 3 miles past the town of Live Oak. Turn right on Turner Rd. next to the Crossroads Cafe, then a quick left on Meyer Ave, It is the 3rd residence on the left. Call first to schedule an appointment to see our wonderful furry friends.
(530) 695-3814 for more info.
Map to our shelter

---
Sutter Buttes Canine Rescue
585 Meyer Ave.

Gridley, CA 95948
Phone: (530) 695-3814


Email: sbk9rescue@earthlink.net

Addition Links:
Click here for a list of pets at this shelter

---

[Home] [Information] [Shelters] [Search]