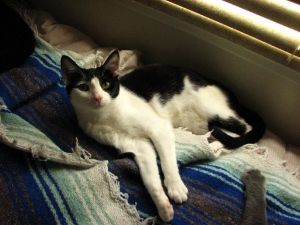 Hi, I'm a gorgeous, petite TUXEDO Kitty (abt 1 yr). Unlike most tuxedos, I am a GIRL, and super sweet at that! I'm quite the LAP CAT, and enjoy sitting calmly on your lap for some snuggle time. If its lap time and you've forgotten, I'll tap you on the shoulder to remind you gently. My fave toy has a faux fur tail, and I love to carry it around play fetch if you give me the chance or chase my sister Pammie's tail. Especially around mealtime, I'm chatty and like to talk and meow with you too. I'm loving, affectionate, and love to sprawl out on top of the 6 foot cat tree and look up at the world. I'm shy at first, but warm up once I'm comfy.
FGR IS IN SEARCH OF LOVING FOSTER HOMES IN ORANGE COUNTY & CERRITOS/LAKEWOOD/LONG BEACH - ALL VET EXPENSES COVERED


WE ARE FOSTER-HOME BASED AND NOT A SHELTER, AND ARE FULL AT THIS TIME. All of our kitties are in a limited number of foster homes where they receive personalized attention, TLC, and full vet care. Please go to our website HERE for more info on how to help a cat you rescued/found, or to find a home for a cat you have now.



SEEKING FOSTER HOMES FOR TEEN KITTENS AND YOUNG ADULT CATS! Can you foster just ONE cat for a temporary period? We will provide the supplies and cover ALL vet care, you provide the TLC & food/shelter. You don't need kitty experience to foster with us, as our foster coordinator will make sure to guide you along the way. Every cat that finds a foster home has taken its first step to a second chance.

WE ALSO NEED REMOTE ADOPTION COUNSELORS AND ADOPTION EVENT VOLUNTEERS! We need help handling adoption inquiries, adoption processes, interviews, and at future adoption events.
ABOUT US

Furrever Grateful Rescue is a small, 100% volunteer run, 501c(3) and California state non-profit animal rescue based in Southern California. We rescue homeless animals off the streets and from high kill shelters--animals who have been abandoned, neglected, and are rendered homeless. Because we do not have a shelter, each of our animals are fostered in loving homes where they are cat-tested, litterbox trained, and become fully accustomed to living in a home before adoption. Some are even dog-tested.

ADOPTION MANTRA: Because we are a small rescue, we provide top-notch personalized care for each animal we save. We spend quality time with each animal to get to know their individual personalities, habits, and preferences which in turn, allows us to make the best furrever home match for years to come. Also, we are committed to providing full vet services for all rescued animals which are included in their adoption fee.
***PLEASE CONSIDER DONATING ANY AMOUNT TO HELP US CONTINUE SAVING LIVES!***

We are desperately in need of donations in 2014, and need your help to pay for medical care, nutritional support, and supplies for our rescued kitties. Donations are 100% tax-deductible, and receipts available upon request, so PLEASE CLICK DONATE BELOW and help us save more homeless pets this year!

OR DONATE ITEMS TO OUR WISH LIST, WE ALWAYS NEED THE FOLLOWING:
-GENTLY USED OR NEW CAT SUPPLIES (cat toys, boxes, beds, blankets, supplements)
-CAT FOOD (dry or wet, any brand, though we feed Royal Canin, Wellness, Natural Balance)
- CAT TREES & CONDOS- Carriers, cages, dog crates
OR DONATE A KURANDA CAT BED FOR OUR FOSTER PROGRAM! PLEASE CLICK BELOW:

-
HOW TO ADOPT FROM FURREVER GRATEFUL RESCUE
If you are interested in adopting one of our rescued animals, please e-mail us with your adoption preferences and tell us more about you. Our Adoption Info & Application is available at www.furrevergrateful.com. The adoption process will involve completion of our adoption application, review by a trained adoption counselor, and contacting you to follow up on your application if you're matched to one of our animals. As always, our #1 commitment is to match our rescued animals to the best suited homes, so not all adopters will be matched to our animals, and all final adoption decisions are made by our Board. Adoptions are finalized with an adoption fee, adoption contract, and home visit or adoption appointment after the potential match has been finalized. We follow up with every adoption to make sure our rescued animals are safe, happy, and loved in their new homes, and welcome you to join us on Facebook and send us updates.
ADOPTIONS ARE BY APPOINTMENT ONLY AT THIS TIME.
---
FURREVER GRATEFUL RESCUE (FGR)


Southern CA
CONTACT INFO: Please REPLY through Petfinder.com OR to the e-mail on each adoption ad to tell us more about you. Please keep in mind these are "rescued" animals, and they will have an adjustment period due to their having been abandoned, left behind, discarded, so please understand that when you adopt a rescued animal. We aim to get to know our rescued pets' temperaments in foster care, but we do not have info on their prior health, background, or temperament before they came into our rescue.They require patience, love, and a big heart-- above all.
---

[Home] [Information] [Shelters] [Search]