Adopt An Indian Desi Dog AAIDD
---
Our Featured Pet...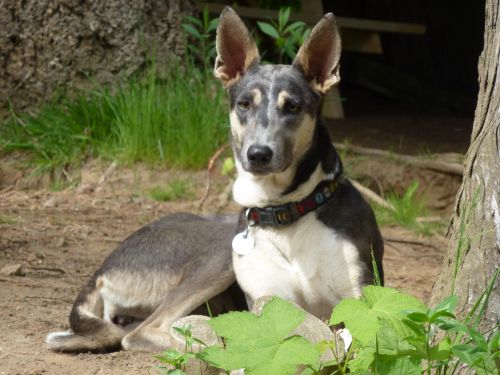 Adopt An Indian Desi Dog is a nonprofit organization founded in 2009 to help find homes for some of the indigenous puppies and dogs found on the streets of New Delhi, India AAIDD funds airlifts of the dogs and pups to Seattle and Vancouver. AAIDD shelters these rescued Desi dogs in their 7.5 acre facility in Abbotsford, BC. The dogs and pups play in field and forest and brook and live indoors with the AAIDD volunteers until they find their forever family. Pups and dogs have been adopted to homes throughout the pacific northwest. Air arrangements can also be organized to homes further afield. It is no difficulty for dogs and pups to transit between the USA and Canada as they have their international health certificates. AAIDD is a self-funded nonprofit organization based on recovery of airlift costs through adoption fees. To ensure that adoptions are successful AAIDD also requests that families engage a professional dog trainer during the pups first year of behavior growth such as www.customcanine.com that use noninvasive nondominance methods that work successfully with desi dogs.
News
In 2012 AAIDD was featured on a Global TV Breakfast news segment (August), in an article in Vancouver Magazine (November), and in several newsapers in India, as well as a cover feature for TALK Magazine. Once again AAIDD Desi Dog owner and graphic designer Jaclyn Marks has produced a superb Desi Dog Calendar 2013 which is filled with photos of over 60 desi's as well as great graphics and desi facts. It can be viewed and ordered on the Desi Dogs In Vancouver facebook page. AAIDD has received Non Profit Status with the Province of British Columbia and is in process of gaining charitable tax status with the federal government of Canada. www.aaidd.ca website is under construction. www.aaidd.in is currently being updated to show the many desi dogs and pups the Drs. Choudhary are having in foster care till they can find forever homes. AAIDD adopters have given homes to over 200 desi pups and dogs since start up in September 2009. This is the equivalent to sponsoring two shelters in Delhi India! This year AAIDD placed dogs throughout BC as well as as far north as Skagway Alaska, south to Portland, Oregon and as far west as New Jersey and New York. Thanks to everyone for your support and rescue of these wonderful desi dogs.
Who We Are
AAIDD Adopt An Indian Desi Dog is a small not for profit rescue shelter located in Abbotsford, British Columbia. AAIDD rescues puppies from the streets of Delhi, India. These pups are known locally as 'desi dogs' and are the ancient heritage dog that abound in the streets of poor countries around the world. These pups have little chance to survive and if they do spend their lives on the streets suffering the effects of poor nutrition and parasites. With full tummies and simple parasite control they become happy, loving, gorgeous companion dogs. Desi dogs are extremely intelligent and quick learners - if they weren't they wouldnt survive on the streets! They are very agile and have great potential to excel at dog sports such as agility. Desi dogs also make great jogging/running companions. While an active outdoor companion dog, they are very calm and quiet indoors. AAIDD works with two wonderful veterinarians in Delhi, India to help them find homes for some of the puppies that they rescue off the street. The Choudhary's do free spay/neuters each month of street dogs; provide food and free veterinary care to desi dogs adopted by the poor, and attempt to find homes in Delhi for as many desi dogs as they can. AAIDD started in 2009 to help the Choudhary's find homes for some of the pups that they rescue and treat. AAIDD placed 15 pups in wonderful loving homes in its first year and 50 dogs in homes in 2010. Owners have fallen head over heels in love with their street puppies and are in awe of how intelligent and loving a companion dog they have rescued. It is a dream to find homes for 100 street puppies in 2011. 012 saw close to 50 adoptions. With the increasing publicity and understanding that desi street dogs are wonderful beings to adopt, more and more residents of India and travellers are adopting Desi's. The Drs. Choudhary state that they have sent over 1000 desi's worldwide to almost every country in the world. AAIDD founder Barbara fell in love with her first street puppy rescue in 2003 when she scooped 6 week old Francis as he was being dropped over a cliff by a group of children who had been abusing him. In 2006 she returned from another trip to India with 5 rescue pups gathered from the street and garbage dump. As they grew into the most loving, gorgeous, and intelligent dogs her passion over her border collies switched to these even smarter - and definitely calmer - dogs. Returning to India in the summer of 2009 she responded to veterinarians Dr. & Dr. Mrs. Choudhary's request to find a home in Canada for 'two' street puppies. When she went to visit these two pups, she found 12 at the rescue shelter and promised to find homes for all these pups and dogs in Canada. As people in Delhi are hearing about the rescue work, more international and local families are offering to foster puppies for the vets and more international families and travellers are chosing to take puppies and dogs back to their homes. The Choudhary's estimate to have sent over 1000 dogs and cats around the world to new lives since the start of AAIDD in September 2009. Delhi has very few animal shelters and the existing ones offer a sad life for its dogs. Dogs are rarely adopted out of a shelter and there are many dog fights and disease in the shelters. Dogs that go into a shelter are going into a compound "doggy prison" for as long as they survive. AAIDDs airlifts of desi pups and dogs is an alternative to fundraising for a rescue shelter in Delhi. By airlifting a pup or dog out of Delhi to a new home, the adopting family is in effect helping to fund 1/100th of the cost of running a shelter in Delhi. Not only is the cost of the airlifts less expensive than funding a shelter in Delhi (land, building, administration, staffing, food, veterinary costs) the quality of life for a pup in its overseas home is that of love and health and excitement rather than the sad life of a dog that must survive a doggy 'prison' compound with no hope of adoption.
Adopting a friend
AAIDD is looking for forever homes interested in adopting young puppies that are rescued off the street in Delhi, India. Rescue Pups range in age from 8 weeks to 6 months of age. Older pups and dogs are also waiting for a chance for a safe and loved life. Contact AAIDD if you are interested in adopting a pup and AAIDD will organize an adoption for you. Both male and female pups are available throughout the year. Pups are fully vet checked and healthy before they come to Canada. Pups have all their vaccinations, deworming, flea/tic control, microchip, and health certification. They are transitioned upon arrival to make sure that they are in good health before going to their adoptive home. Contact AAIDD for an adoption application form and/or for additional information. AAIDD is a nonprofit rescue and 100% of the adoption donation goes towards the airlift costs. Puppies and dogs are also available that are not yet listed on Petfinder. Cant adopt? Consider making any small donation that can go to help subsidize the airlift of a dog waiting in line for space and funding. Contact AAIDD at 1-604-852-3375 or barbara_gard@hotmail.com for additional information and an adoption application form.
Come Visit Us!
AAIDD is located in Abbotsford in the Fraser Valley, British Columbia Canada. Contact AAIDD to arrange a visit and for directions.
---
Adopt An Indian Desi Dog AAIDD
37316 Ward Road

Abbotsford BC V3G 2K6
Phone: 604-852-3375

Email: barbara_gard@hotmail.com
Click here for a list of pets at this shelter

---

[Home] [Information] [Shelters] [Search]