Our Featured Pet
Daisy
Daisy is a Cane Corso mix that needs a breed experienced home. She is about 2 years old, and is a very quick learner. She is suspicious of new people and appreciates slow introductions. Daisy needs a leader that will show her in a positive way, that new people can be trusted. She would not do well in a home with lots of visitors because of her uncertainty around strangers. Once Daisy gets to know you, she is a complete love bug. She has lots of energy to hike, or play ball, but is also content to relax in her kennel after exercise time. Please view her profile for more information about Daisy.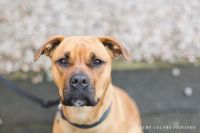 Adopting a friend
Adoptions are not first come first served. We base our adoption procedure on the best fit for the animal and the potential adopter. Application forms are available at the animal shelter office or online The application process is approximately 24-48 hours and we require references regarding previous animal ownership, strata or landlord approval for size & species etc All our animals are spayed/neutered,vaccinated,microchip implanted & flea treated as well as dewormed. The adoption fee is $160 per cat & $224.00 for dogs.
Who We Are
The City of New Westminster Animal Shelter is a city run municipal animal shelter. We re-home the homeless and abandoned animals of the city of New Westminster. Our mandate is to provide customer service excellency to both humans and animals and to protect the most vulnerable members of society through humane education and through the enforcement of the City's animal control bylaw. We strive to ensure the physical and emotional well-being of the animals in our care.
Come Visit Us!
Adoption hours are 10:30-3:30 seven days a week excluding stat holidays. 231 Ewen Avenue New Westminster, BC V3M 5B3 Ph: 604-519-2008 Fax: 604-519-1024 email:
shelter@newwestcity.ca