Our Featured Pet
Brinx
Brinx is a mastiff cross that has come a long way since he first arrived at the shelter. He had untreated hypothyroidism that caused him to be quite obese, and have sores on his arms and legs. Now that Brinx is on medication, his weight is slowly coming off and his sores are healed. Brinx's true personality is starting to shine through now that he isn't in such discomfort! He adores human company, and is happiest when he can stay by your side and get the occasional belly rub. He enjoys short walks, but isn't keen on exploring too far. He is a very clean dog, that will communicate with you when he needs a potty break. His twice-a-day pills are easy to administer in his food. He will happily eat them. Brinx needs a leader that will show him in a positive way that it is ok to let the humans call the shots sometimes, as he can be a bit pushy.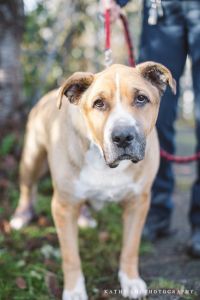 Adopting a friend
Adoptions are not first come first served. We base our adoption procedure on the best fit for the animal and the potential adopter. Application forms are available at the animal shelter office or online The application process is approximately 24-48 hours and we require references regarding previous animal ownership, strata or landlord approval for size & species etc All our animals are spayed/neutered,vaccinated,microchip implanted & flea treated as well as dewormed. The adoption fee is $160 per cat & $224.00 for dogs.
Who We Are
The City of New Westminster Animal Shelter is a city run municipal animal shelter. We re-home the homeless and abandoned animals of the city of New Westminster. Our mandate is to provide customer service excellency to both humans and animals and to protect the most vulnerable members of society through humane education and through the enforcement of the City's animal control bylaw. We strive to ensure the physical and emotional well-being of the animals in our care.
Come Visit Us!
Adoption hours are 10:30-3:30 seven days a week excluding stat holidays. 231 Ewen Avenue New Westminster, BC V3M 5B3 Ph: 604-519-2008 Fax: 604-519-1024 email:
shelter@newwestcity.ca