Featured Pets...
Hi, my name is Bramble.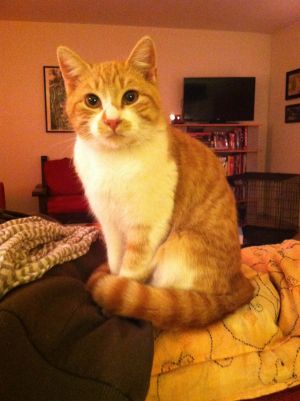 Bramble is a year old, gorgeous Orange Tabby who was stuck in a tree for 5 days! Thanks to the kind hearted manager of a gas station owner in Many Farms AZ, he was caught and brought to foster care. Bramble LOVES humans and other cats, but is still learning to trust dogs. Bramble is learning his house manners, including how to use a litter box, and is fixed! If you are interested in this beautiful boy, pease contact Michaela at michaelag.brady@gmail.com or (724) 355-9053!

The adoption fee for Blackhat Humane is $75.00. All animals will be up to date on vaccinations and spayed/neutered as age allows. We may be able to help with local transportation in the 4 corners area.

See our animals available for adoption!

Please help us pay for veterinary services for our foster dogs! There is an easy to use PayPal donation button below. We are an all-volunteer group, and 98% of our funds go towards the animals.


---
Blackhat Humane Society
P.O. Box 3123
Durango, CO 81302
Phone: (724) 355-9053

Email: blackhathumane@gmail.com



EIN# 86-0982150

2013-14 Officers

Please welcome and congratulate the new Blackhat Humane Board Members and Officers:
xxxxxxxx, President
Maggie Gruschow, Treasurer
Michaela Brady, Secretary

Members at Large:
Skip Radau
Mary Vitt
John Schnetzer

Southern Foster Contact:
Maria Bahr
Eastern Foster Contact:
Jasmine Mayne

A big ahehee to all of our friends for all your love and support! Thank you!



---
Who We Are



Blackhat Humane Society is a non-profit organization established in 2000. We are dedicated to rescuing and finding homes for abandoned animals and livestock. We are one of the very few Humane Societies on the Navajo Reservation (an area roughly the size of West Virginia). We have a tremendous problem with pet overpopulation. Cats and dogs are allowed to breed freely and survive on "what they can catch". Puppies and kittens are routinely dumped at local gas stations and grocery stores. Parvo, distemper, mange and untreated injuries are the cause of death for most companion animals. It is rare to see a dog or cat over 2 years of age. Once the backbone of the Navajo economy, horses, sheep and cattle now roam the open range, foraging for food.

Our goals include; education for all ages but concentrating on school-age children and a mobile clinic. We also need volunteers to help produce videos (in English and Navajo) which will be shown in the local chapterhouses and in our schools.
We are in need of volunteers and donations. Blankets, food, dog houses and crates, vet supplies and medications are helpful to our cause. Our greatest need is for more foster homes on or near the Navajo Nation. If you are interesting in fostering a pet, please contact us for details. Our foster volunteers are supported with vaccinations and spay-neuter reimbursements for their foster animals.
Adopting a Friend
Rescued animals are fostered in the homes of our volunteers. Here, they are given vaccinations, spayed or neutered, and taught the "social graces" neccessary to living in our world. Please contact the foster family of the animal in which you're interested for information. Our adoption fee is $75.
Tshirt color is gray, and tshirts cost $15., which includes shipping and handling. Please order tshirts by using the PayPal Button below, or you can send a check, plus the size, and your shipping/mailing address to: Blackhat Humane, P.O. Box 3843, Chinle AZ 86503. Please make sure to note on the check that it is for a Tshirt!
News!
| | |
| --- | --- |
| If you would like to receive an electronic copy of our newsletter, instead of a printed and mailed copy, please email Skip at blackhathumsoc@gmail.com. Thank you! | |
Soul Dog Chinle Spay/Neuter Clinic January 18-19, 2014
On Saturday and Sunday, January 18-19, Soul Dog Rescue visited Chinle, AZ and performed another amazing spay/neuter clinic! In just two days, Soul Dog and Blackhat volunteers were able to spay/neuter 130 animals, catch countless strays, and spring many helpless animals from local Animal Control shelters.


See a whole album of photos from the spay/neuter clinic

Thank you to Soul Dog Rescue for these amazing and lifesaving spay/neuter clinics you continue to bring to the Navajo Nation and surrounding areas, and all of the dogs you relocate to other areas where they get adopted. We really appreciate everything you are doing to help the animals and the people on the rez!
The Story of Shadow (now Shady)
My boy friend and I planned a 10 day trip out west (we live in New Jersey). I had wanted to go my whole life, he had lived there for a few years. Of course it was during the Government shut down, so we had to do a lot of off the cuff stuff, including staying on campsites that we could--meaning ones that were open and/or didn't have a gate up! This lead us to Bluff, Utah where we were checking out some 8,000 year old petroglyphs at Sand Island Recreation Area near Gooseneck State Park.

Shadow's Story Continued


Blackhat Humane Adoption Day at PetSense in Durango, December 14, 2013


Blackhat Humane Society had their first adoption event on Saturday, December 14, at the new PetSense in Durango! It was a great day, with many adoptions and new friends made!




Frankincense was the first to be adopted! He was a Christmas surprise for the children - they were so excited, it was adorable!

Watch a wonderful video of the kids meeting Frankincense, and his arrival home with them.