Featured Pets...
Hi, my name is Bramble.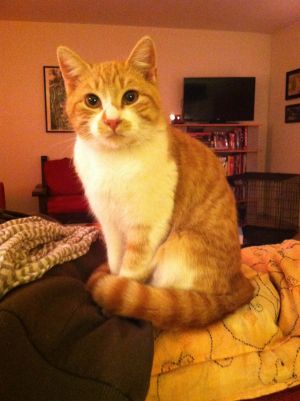 Bramble is a year old, gorgeous Orange Tabby who was stuck in a tree for 5 days! Thanks to the kind hearted manager of a gas station owner in Many Farms AZ, he was caught and brought to foster care. Bramble LOVES humans and other cats, but is still learning to trust dogs. Bramble is learning his house manners, including how to use a litter box, and is fixed! If you are interested in this beautiful boy, pease contact Michaela at michaelag.brady@gmail.com or (724) 355-9053!

The adoption fee for Blackhat Humane is $75.00. All animals will be up to date on vaccinations and spayed/neutered as age allows. We may be able to help with local transportation in the 4 corners area. Get an adoption application at our website: http://www.blackhathumanesociety.org.

See our animals available for adoption!

Please help us pay for veterinary services for our foster dogs! There is an easy to use PayPal donation button below. We are an all-volunteer group, and 98% of our funds go towards the animals.


Who We Are
Blackhat Humane Society is a non-profit organization established in 2000. We are dedicated to rescuing and finding homes for abandoned animals and livestock. We are one of the very few Humane Societies on the Navajo Reservation (an area roughly the size of West Virginia). We have a tremendous problem with pet overpopulation. Cats and dogs are allowed to breed freely and survive on "what they can catch". Puppies and kittens are routinely dumped at local gas stations and grocery stores. Parvo, distemper, mange and untreated injuries are the cause of death for most companion animals. It is rare to see a dog or cat over 2 years of age. Once the backbone of the Navajo economy, horses, sheep and cattle now roam the open range, foraging for food.

Our goals include; education for all ages but concentrating on school-age children and a mobile clinic. We also need volunteers to help produce videos (in English and Navajo) which will be shown in the local chapterhouses and in our schools.
We are in need of volunteers and donations. Blankets, food, dog houses and crates, vet supplies and medications are helpful to our cause. Our greatest need is for more foster homes on or near the Navajo Nation. If you are interesting in fostering a pet, please contact us for details. Our foster volunteers are supported with vaccinations and spay-neuter reimbursements for their foster animals.
Adopting a Friend
Rescued animals are fostered in the homes of our volunteers. Here, they are given vaccinations, spayed or neutered, and taught the "social graces" neccessary to living in our world. Please contact the foster family of the animal in which you're interested for information. Our adoption fee is $75. Get an adoption application at our website: http://www.blackhathumanesociety.org.
News!
---
Blackhat Humane Society
P.O. Box 3123
Durango, CO 81302
Phone: (724) 355-9053

Email: blackhathumane@gmail.com



EIN# 86-0982150


---