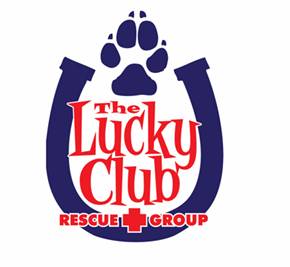 PO Box 1666
Prescott, AZ 86302
1-928-925-5650
---
Please help us help homeless animals by making a tax deductible donation
"Make your donations with PayPal - it's fast, free and secure!"



Or mail a check made payable to :

"The Lucky Club Rescue Group"
P.O. Box 1666
Prescott, AZ 86302

For a receipt please contact luckyclub3@aol.com
---
---
IN MEMORY OF LUCKY CLUB VOLUNTEER KAREN CLYMER

On April 2, 2011 our rescue group amd the local community lost a dear, dear friend,....Karen Clymer. Karen was one of the finest foster moms of rescue dogs as well as a canine trainer and behaviorist. Karen Clymer has been training dogs for over thirty years and has 15 years experience in herding. She has advanced titles in AHBA, ASCA and AKC and is an AHBA Herding Judge.

Karen was truly a one-of-a kind lady who never, ever refused a request when we needed her help. She always took the hardest and "impossible" cases. Her vast knowledge and willingness to share was unrivaled in our Prescott area dog rescue community. It was an honor and a privilege to know Karen and she will be missed every day. She will never be forgotten. .

Karen was born Oct. 19, 1948, in Grants Pass, Ore, and passed away April 2, 2011. She was the daughter of Fred and Louise Jeddeloh. Karen grew up in Grants Pass, graduating from Grants Pass High in 1966. After graduating from Linfield College, Karen moved to Modesto, Calif., where she resided a time before starting a master's degree at the University of Southern Illinois, Carbondale. In the early 1970s, she moved to Clinton, Ill., and worked for the United Parcel Service. While in Clinton, Karen provided a foster home to girls who needed a stable, loving home. One of the girls, Tracy, became a lifelong friend.

It was in Clinton she met her husband, Denny. They were married in 1984. Her local articles for UPS company newsletter The Big Idea attracted attention, and she was eventually promoted to manager of employee communications in the UPS head office in New York. She and Denny moved to Connecticut. Karen was never happy in corporate life and wanted to start her own business. About 1988, Karen and Denny moved to Chino Valley, Ariz. Karen's father had had mobility problems, so Karen decided to start a mail-order business that featured independent living-aid products, Access With Ease.

Karen always loved animals. From her early childhood, she always wanted a horse. Karen chose the southwest so that she could finally have room for a horse and lots of dogs. Karen was a well-known dog trainer and instructor locally and statewide. She completed multiple herding championships and obedience titles. She was the founder of the Chino Valley Canine Training Club in 1989 and has always been very active in the club and its activities. She was also a lifetime member of the Prescott Arizona Kennel Club. Karen has held officer positions in the CVCTC, the PAKC, the American Herding Association and the BACC. She was an AHBA judge, an AKC Rally judge and obedience judge, has actively supported the local dog rescue organizations, worked with the Yavapai County Fairgrounds and performed herding demos at the Highland Games.

She was an expert in canine behavior, care, training and management. At the time of her death, she was teaching a canine behavior course at Yavapai College. Karen also performed sheep-shearing demos at Sharlot Hall Museum. In addition, she would card and weave wool from her sheep. Karen has touched a lot of lives in the dog community and will be missed very much.

Karen is survived by her brothers, George Jeddeloh of Ashland, Ore., John Jeddeloh and Alan Jeddeloh of Portland, Ore.; her beloved niece and nephew Laura and Andrew Jeddeloh of Portland; her foster daughter Tracy Weakley of Baltimore, Md.; her dogs, Ember, Spot, Star, Sweep and Tess; and her horse, Silver.

SPECIAL NOTE: All of Karen's animals have been placed into new homes including 2 of her beloved Border Collie's Tess and Sweep and 4 pymgy goats, all who have gone to live in their new forever home with Lucky Club foster parents Fred and Laura Hughes.





ADOPTIONS:
The Lucky Club no longer shows dogs at Petco or PetsMart, though we do continue to foster dogs in our homes and adopt dogs to forever homes on a one-on-one basis. For enquries about a specific dog, e-mail Lucky Club founder Cherie Mackenzie at luckyclub3@aol.com. We are unable to check e-mail on a daily basis, so please allow up to 72 hours for a reply.




NEED AN AWESOME DOG TRAINER? WE RECOMMEND DANDY DAWGS!
Dog trainer Andy Lloyd of Dandy Dawgs offers positive reward based dog training techniques, dog obedience classes, special canine events, spay and neuter education and information, innovative problem dog behavior solutions, private and group dog training classes, along with lots of fun things to do for people and their canine companions in the beautiful Prescott, Arizona area. Call or email Andy today for more information and to arrange your free consultation! Call Andy Lloyd (928) 778-2033 www.dandydawgs.com



WHO WE ARE:
We are a small group of volunteers who rescue, foster, provide medical care (if needed )and do off-site adoptions for dogs, cats and horses. Donations are always needed and very appreciated and can be sent to:

The Lucky Club
PO Box 1666
Prescott, AZ 86302
1-928-925-5650
luckyclub3@aol.com



ADOPTING A FRIEND:
Lucky Club's adoption fees vary according to size, breed., and age. Most of our adoptions are $135.00 per dog. Horse adoption rates vary. Dogs will be spayed or neutered, microchipped, and will have received all appropriate vaccinations to date.


MAKING THE COMMITMENT:
These rescued pets are the truest friends and companions you'll ever know. If you give them unconditional love, they will give it back ten fold. But it takes more than love. Having a pet in your life takes time, patience, dedication and money. Consider this carefully before you decide to adopt. When selecting a family pet, look ahead.
Do you have enough time to commit to your pet?

Are you willing to commit to take the pet with you should you move in the future -either in or out of state??

Do you plan on having children and still let the your new pet share your life and home?

Do you plan on moving away from home, going to college?

What are the ages of your children still living at home, are they too young to understand to be gentle with a dog or cat?

What temperament in pet's breed would fit your family and lifestyle?

Are all members of the family in agreement with this decision to bring a pet into your lives?

How will the pet fit into your family routine?

Any allergies in the family, or with friends, or anyone who would visit that you need to consider?

Are you willing to make the financial commitment to this pet's health beyond the normal yearly check-ups and shots?

Do you realize a dog or cat can live up to 16 years of age, and sometimes longer, depending on the breed?

Are you prepared to deal with issues that require training and patience such as chewing, digging, barking, housebreaking or any other behavioral issue? This is the biggest consideration. Great pets aren't born, they are made by YOUR love and patience!
These are just some of the questions you should consider and answer honestly. These pets have each been given a second chance and they deserve to have it last for the rest of their lives, not until they become an inconvenience and are then passed on yet again. Before you make the commitment and adopt one of the Lucky Club's dog or cat, you need to understand that. If you find that this is the right time to adopt a rescued pet, we would love for you to consider a Lucky Club dog or cat!



SURRENDERING A PET:
Since our rescued pets are in foster homes, not a shelter, we have a very limited capacity for intake. The majority of our animals come from Prescott and Chino Valley Animal Control, many from their euthanasia list. Too often, animals are surrendered for reasons that could be clearly addressed with proper training, effort and patience. They CAN be taken with the family when they move if the family had really made that important commitment. Too many fail to remember that a commitment was made upon adoption. How you nurture, protect and value that life you once saved is a measure of your character. How you honor that commitment is a reflection of your heart and you as a person. We encourage you to make every effort to keep that pet in your family. You are their home and all they know and love. You owe them this much at the very least.



TO CONTACT US WITH QUESTIONS OTHER THAN PETFINDER PET ADOPTIONS:
The Lucky Club
c/o Cherie Mackenzie, President
PO Box 1666
Prescott, AZ 86302
Phone: 1-928-925-5650
Email: LuckyClubRescue@aol.com

Click here for a list of pets at this shelter


---

[Home] [Information] [Shelters] [Search]