Saving Paws
---
Our Featured Pet...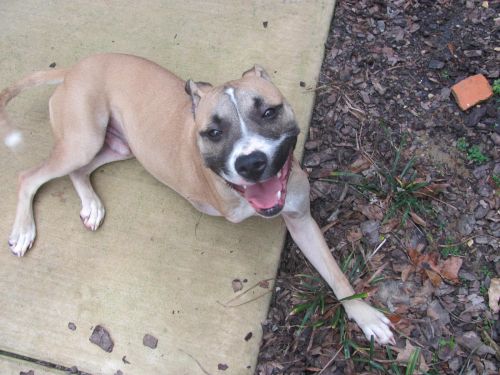 I am looking for a good home for a very special boy. His name is Buster and he just celebrated his 1st birthday. He is a boxer mix, neutered, utd on all shots, on heartworm preventative and is microchipped. He was found as a puppy around Easter of last year. He was injured when I found him. He had a collar on that was so tight he could hardly breathe and when I approached him I saw that there was also a piece of yarn tied to the collar. The yarn had become embedded in his shoulder and he was dragging his foot. I swept him up in my arms and took him to my vet, Dr. David Fuller, at Hope Animal Clinic. Dr. Fuller removed the yarn and treated the huge gash in his shoulder. He was hopeful that the leg would recover and could be saved but after 5 weeks he determined that the leg would have to be amputated. Buster is now a very healthy, high-energy, tri-pod! He gets around great with only 3 legs.He is very sweet and just wants to play. He needs a large fenced yard to run and play in. He does get tired pretty quick though. I would like to find him a home with no other dogs. He likes to be the center of attention. He doesn't mind cats however.If you can help this sweetheart find the right place please contact Tracy Hill (pdtrhill@att.net) or myself. Buster has been boarded now since Thanksgiving at Hope Animal Clinic and he is getting depressed and needing a home of his own. I (Joni) can be reached at (jojnx@yahoo.com). Thank you for helping!
News
We are a Non Profit 501(C3) organization. Any donations are now tax deductible. WE CANNOT TAKE IN ANYMORE ANIMALS AT THIS TIME.
Who We Are
We are a group of people that is a volunteer-run organization wanting to make our mission to finding homes for animals that have been neglected, abandonded, abused or fallen victim to other situations in their lives. We want all of our rescued animals to have the best quality of life possible, along with medical care, patience, understanding and lots of love. We do hope that you will support us in our mission whether it's by donating, recommending us to your friends, becoming a foster home or volunteer. The rescued need all the help they can get. We are not state funded or have any assistance. All expenses are paid for by us and adoptions. If you are interested in donating, whether it is financially or any type of supplies, please email us.
Adopting a friend
Our adoption procedure is having one fill out an application, doing a home visit, check vet references on presently or previously owned pets and a signed contract. Why an adoption fee? (shouldn't you just give the dogs away)? Saving Paws Rescue works with a local animal hospital in the area who provides their services at a reduced cost. Veterinary costs, even with the discounts we are afforded, often surpass the adoption fee collected on each dog. Some of our dogs come into foster care requiring added procedures such as heartworm treatment, dental treatment, and professional grooming or boarding while a foster home is traveling. *If an adoption fee is too expensive for an adopter, they might want to consider if owning a pet is really the best option for their family.
Until you have held a tiny puppy in your arms as it kissed your face with slobbery puppy breath and felt the love, Until you have held an injured or severely ill dog in your arms and felt their pain, Until you have looked into the eyes of a tired aging senior dog and felt their wisdom, And until you have seen and understood the look in your dogs eyes that tell you their time on earth with you is over .... and you humanely let them go, You will never understand the life of a rescuer. We find beauty in the most incomprehensible places and the otherwise homely faces. It is our gift to see beyond the dirt, terror, sadness and defeat and find the true soul that lies within. We Are Rescue Author Unknown <!->

---


Saving Paws

Birmingham, AL 35023
Email only

Email: for puppies & dogs email kbailey772@gmail.com, email for cat & kitten adoptions deniho@charter.net
Click here for a list of pets at this shelter


---





[Home] [Information] [Shelters] [Search]